Eternal Lands Shop
Read before you buy:
When you order you must list all the items you ordered and
include your in game name!


You have to be at least 18 years old to purchase, or have your parents/guardian permission.


If you use someone's else credit card or PayPal account, you need to have their permission. If you don't, and they do a charge back, you and all your alts will be banned.


All the prices are in USD, and the minimum purchase is 5 USD.


Multiple purchases should be consolidated into one. For example, if you purchase 5 books and 6 EFE, you need to calculate their value: 5*5+10=35, and then make a payment of 35 USD, listing all the items you want and the character name.


Newer characters are limited to 100 USD purchases per month. There are multiple reasons for this. One reason is that if you are new to the game, it is easier for someone to scam you, or for you to lose you expensive items when you die. Another reason is that sometimes people will use credit cards without permission (steal) and then buy items for their alts, possibly from a different IP.


We personally deliver all the items and services. This means that after placing an order, you will not get the items instantly. Unless otherwise stated, the delivery time ranges between a few minutes and 24 hours. The average delivery time is less than 2 hours, unless it's late at night (EST time zone), weekend, or holiday. If you do not get your items or services in 24 hours, please e-mail me at: radu.prv (at) gmail.com


We reserve the right to ban anyone from buying from the shop, for any reason at all, or even for no reason. This is a right most of the companies in the world reserve.


Discounts: As seen below, we have some discounts for some items, when you buy in bulk. For example, the rostogol stones are 5 USD each, or 25 for 100 USD. What this means is, if you buy 25 rostogol stones, you have to pay 100 USD, if you buy 30 rostogol stones you will have to pay 100 USD for 25 stones, then another 5 USD for each of the 5 remaining stones, so 125 USD in total. It doesn't mean that any stone over the 100 USD purchase is 4 USD.


Just because you buy items from the shop does not mean you are above our rules. So by reading this you acknowledge that if you do break the game rules and you get banned from the game, you will NOT be refunded any money. It's pretty much the same thing as going to a theme park and causing trouble, you will most likely be kicked out without a refund. Same thing applies for less severe punishments, such as an inventory clean.


For now, we only accept PayPal payments.




If you wish to pay by PayPal, use this button:




We reserve the right to amend the Terms and Conditions in the future. We also reserve the right to change the prices as well!
---



Products we sell


Popular Items:
All the enriched essences with the exception of ELE are $2 each, or 6 enriched essences for $10.
ELE (enriched life essences) are $1 each, or 6 for $5.
Binding stones and serpent stones are $2 each, or 6 for $10
Rostogol Stones are $5 each, or 25 for $100.
Any book in the game is $5, however we only sell the books that are available from an NPC (but we do not sell books worth more than 50Kgc in the game)! We also do not sell the rare drops books.
The common capes (not the rare ones) are $6 each.
Invasion tokens, $2 each.
Perk removal stones, $25 each.
Nexus transfer stones, $3 each.
Haidir passes $0.5 each
Day cooldown remover $2 each (reduce the wait time for daily quests by 6 hours, on Sun Tzu it has a 1/2 chance to fail and lose it)
Grapes $3 each
Attribute removals (NOT NEXUSES) $6 each. Big discounts for large quantities, ask in game.

Special Swords, see the encyclopedia in game for descriptions.
Iron Sword of Fire: $10
Iron Broad Sword of Fire: $15
Iron Broad Sword of Ice: $15
Steel Long Sword of Fire: $20
Steel Long Sword of Ice: $20
Steel Long Sword of Magic: $20
Steel Two Edge Sword of Fire: $25
Steel Two Edged Sword of Ice: $25
Steel Two Edged Sword of Magic: $30
Steel Two Edged Sword of Thermal: $35
Titanium Short Sword of Fire: $40
Titanium Short Sword of Ice: $40
Titanium Short Sword of Magic: $40
Titanium Short Sword of Thermal: $45
Titanium Long Sword of Fire: $50
Titanium Long Sword of Ice: $50
Titanium Long Sword of Magic: $50
Titanium Long Sword of Thermal: $60
Titanium Serpent Sword of Fire: $70
Titanium Serpent Sword of Ice: $70
Titanium Serpent Sword of Magic: $80
Titanium Serpent Sword of Thermal: $90




Wearable items for sale: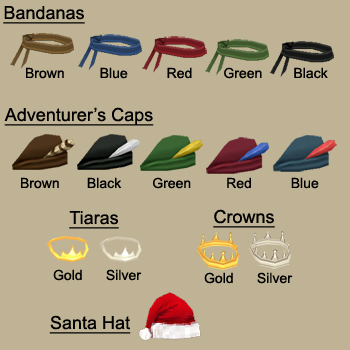 ***NOTE: These items do nothing but look cool on your character!
Bandanas= $10 each
Brown
Blue
Red
Green
Black
Adventurer's Caps= $10 each
Brown
Black
Green
Red
Blue
Tiaras= $15 each
Gold
Silver
Crowns= $20 each, or 6 crowns for $100
Gold
Silver
Santa Hat= $10 each


Bouquet of Roses= $10 each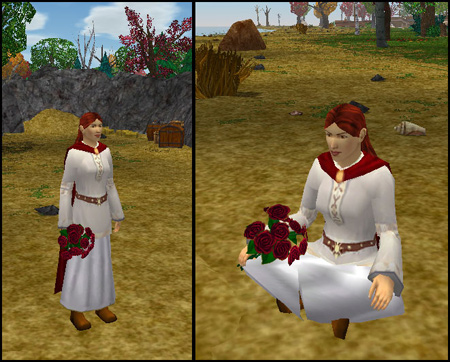 Horse whistles= $2 each. You can ride a horse for a certain number of steps (quite high), at double the speed of normal movement. Once you unmount a horse, and before the steps expire, you can mount it again for free with a second whsitle which will not disappear.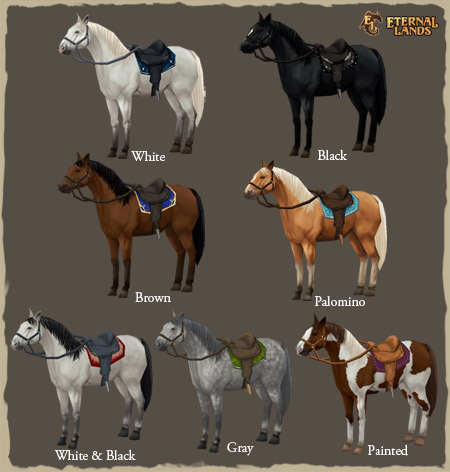 *Please specify brown, white, black, palomino, white & black, gray, or painted horse whistle when ordering*

---
Services:
P2P race: $20 for one year, $50 lifetime. Note that you can upgrade from a one year of p2p to lifetime for only $30 ONLY if your p2p race did not expire yet (that is, if you still have it before we purge the expired p2p races).

Guild map: $200, and it is your responsibility to make the map. Note that your map will be in the game at the next client update, provided that you have the map ready before.

Guild map UPDATES: $10 for .def and $10 for .elm-so if you want both it's $20. this is only if you already have a guild map that's in game and you wish to update it. You also get one bug fix reupload with this. .def files can be updated with a server restart, but .elm files must wait for a client update. Any questions & for more info contact Roja and see this thread: Guild Map FAQ
Guard/PK bot: (for your guild map) $100, and $20 yearly fee (the first year fee is included in the price).

Trade bot, non blessed: $20, and $20 each subsequent year.

Trade bot, blessed: $100, and $20 each subsequent year.

Bot blessings: $100, any bot can get up to 6 blessings, each increasing the carry capacity equally.

PK server account: $5 per character. Please include the character name you want to use for the pk server! For more info on the pk server, see here: PK Server
Name change for non p2p race: $5

Name change for p2p race: $10

Color change(regardless of race): $5

Size change (+/- 5%): $10

Copy character to test server: $5

---
Custom Clothes:
For custom clothes, please click the link below and follow all instructions!
Purchase Custom Clothes
---
T-shirts, Mugs, Keychains, Etc.
**Note that if you like a product, but don't like it's color, you can change it by clicking on the image and then choosing a color or different style!
Look for a personalized gift at Zazzle.